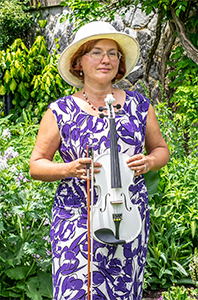 Elena got her classical music background during her education in world recognized musical schools and universities. She holds a Master's degree in String Performance
During her musician career Elena played many violin concertos as well as complicated music compositions. She participated in a few orchestras and chamber ensembles as a key violinist playing remarkable pieces like Die Forelle by Schubert.
Diversified performance experience allows Elena to express herself in instrumental arrangements in the best traditions of violin technique and sound production. Many favorite retro and contemporary songs laid of her wide repertoire along with popular classics melodies.
Elena represents her vision of playing violin in singing and melodious style as that instrument allows, where sound should speak to people's heart in direct way. She performs in natural and transparent manner when her violin is singing and waking up deep feelings and emotions in the audience.
Elena appears as a solo performer in local festivals and concerts as well as in recitals along with her students. She is regularly recording her performance videos and music CD and publishes them in her YouTube channel
iViolin Studio
, where you can subscribe for the recent updates.