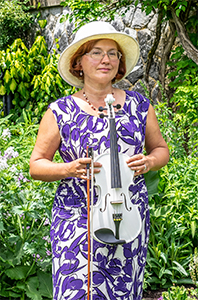 Elena Ilina is a dedicated Russian born violinist with significant performing experience. Back in 1970-1980 Elena studied violin playing in ambience of one of the best Russian music school in Novosibirsk State Conservatory inspired by Galina Tourchaninova and
Zakhar Bron
. There are world known violin players as
Vadim Repin
and
Maxim Vengerov
among students of this legendary school.
As an orchestra and a chamber music performer Elena expresses herself as a fine musician. She is enjoying playing solo pieces as well as being an ensemble player.
While performing in
iViolin
Elena cooperates and plays music together with other musicians including cello, guitar, violin and piano. With her role as a leading violinist Elena performed in such remarkable works like Trout Quintet by Schubert, sonatas by Brahms and Paganini chamber pieces.
Beside of public performance Elena is also teaching violin in
Brentwood College School
in Mill Bay and in her
Silver Strings Studio
in Chemainus. Elena's extensive teaching experience gives her proficiency to work with many students of all levels and ages.